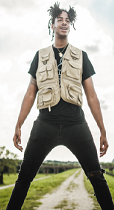 Artist Name: PATRICH
PATRICH, a of Rappers freshman Dallas rap artist is making tidal waves on the rap scene. The artist is definitely part of the "New Wave You Should Know", as his interactive performances and "flexin" centric music is more than just style-over-substance.
Dallas, TX October 17, 2017 - PATRICH1500 began his musical journey a year ago, in one of the roughest areas in Dallas. With his hard-hitting delivery and song concepts,  there is no doubt that he is authentically from the "streets".  However, his steady grind has resulted in the artist opening for top Billboard rap artist 21 Savage, only 2 months after releasing his first song on SoundCloud!  While living in the Austin area, he knew great things were to come after hearing his signature song  "1500" laying when he opened his window, by complete strangers.  After returning to Dallas, this new artist buzz has continued to climb!  More than street smart, this young artist is astute in business and personally responsible for cultivating his own brand.            
The sky is the limit for the Up & coming rapper – XXL Freshman 2018, Oct. 2017
              PATRICH's originality is well on his way to rap dominance.- The Dirty Stream , June 2017
Since his inception in 2016, the artist signature ad-libs push the boundaries by taking his music to the extreme which have resulted in an impressive 20+ performance under his belt, which includes South by Southwest and requested to open for artists such as Chief Keef, 21 Savage, Playboi Carti, Wes Walker and Hoodrich Pablo Juan.  All resulting in this new artist successfully headlining his own show this past summer in Dallas, with locally known artist Pat Ron and the Pyrex Pirates.  
While Dallas is a melting pot of musical talent, this artist has efficaciously excelled as a performer. It will not be long before this artist is headlining his own show both nationally and internationally! The sky is definitely the limit for PATRICH1500!

                                                For more information, please visit https://www.PATRICH1500.com/
Connect with PATRICH1500 SoundCloud: Patrichthegoat
Twitter | Facebook: @PATRICH1500 
Instagram: Patrichlaflare  
Press Kit: www.Patrich1500.com
Press: stardom@hypestarr.com